8 March 2022 / 4 minute read
Bad Credit Loans: How to Avoid a Scam
Bad Credit Loans target people with imperfect credit. Some may be legitimate solutions with high-interest rates, but many are scams. Here's how to tell.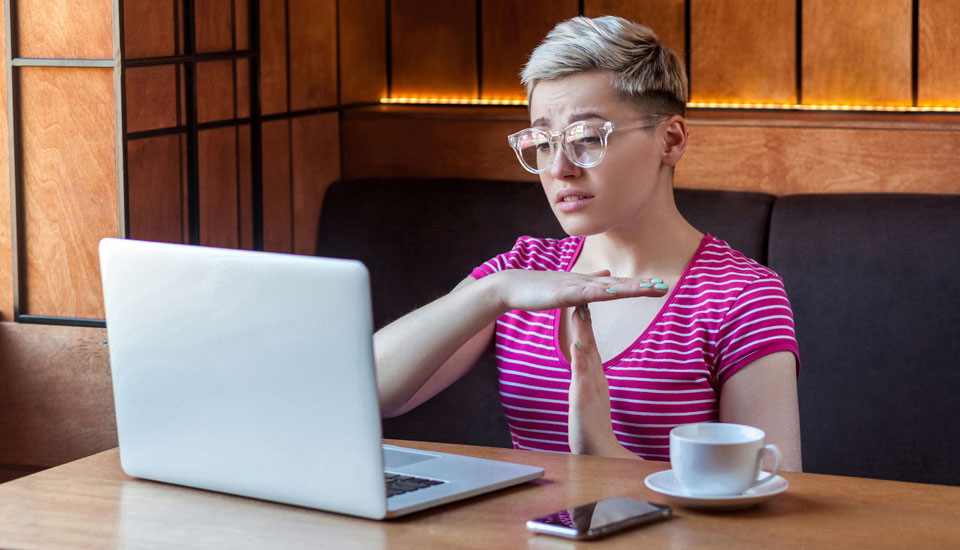 Nearly everyone has a credit history and a credit score. Whether yours is poor, fair, good, very good, or excellent is based on a myriad of factors — from how much debt you have and your debt to credit ratio, to how diverse your debt is, and how often you pay your bills on time.

If your credit is currently "poor" or "fair" but you need to borrow some additional funds, you may have been offered what we often call "Bad Credit Loans."

In the following article, we'll be outlining what exactly these types of loans are and why a Personal Loan or Home Equity Loan may be the best solution to help you avoid them.
What Are Bad Credit Loans?
Not everyone has a "very good" or "excellent" credit score, and if that's you, it's okay.

Unfortunately, some lenders and organizations have no problem targeting individuals with poor credit, and in doing so, they offer bad loans at high-interest rates and with terrible terms for the borrower.

Essentially, a Bad Credit Loan is a loan that can be taken out by someone who has a poor credit score and does not qualify for other, better loans with lower interest rates. They typically have a bad credit history, and as a result, most lenders don't want to lend to them because they're afraid they won't get their money back.

Generally, with these types of Bad Credit Loans, the borrower's credit history is not taken into account, and a credit check may not even be run at all. This is good for a borrower who has a poor credit history because this doesn't become a negative factor in their attempts to borrow money. However, lenders of Bad Credit Loans make up for this fact by charging extraordinarily high-interest rates and other additional fees. Those with poor credit may come across Bad Credit Loan offerings that are either secured (backed by collateral) or unsecured.
Payday Loans
One notorious type of Bad Credit Loan is the Payday Loan. These are loans that you can take out extremely quickly — either in a brick-and-mortar store or online. No credit check needs to be run as a rule, but again, the terms are terrible for the borrower. Interest rates are high, and the lender usually expects the loan to be paid back rather quickly — generally the next time the borrower gets a paycheck (thus the name "Payday Loan").


---
Uncover the truth and get the money you need by downloading our free guide:
---
How to Avoid Bad Credit Loan Scams
It's extremely common to get offers for loans on a daily basis. Someone with bad credit might get two to three or more envelopes a day from random "lenders" they've never heard of before. They target people with bad credit and give them false hope about being able to take out a great loan "without a credit check!" Some even include "checks" in them, written out for exorbitant amounts like $30,000 or $500,000.

These are, of course, fake checks, and many of the offers for loans are fake and scams as well.

This is where two groups emerge. First, we have Bad Credit Loans that are actually legitimate but have terrible terms for the borrower. Therefore, they are not recommended as there are usually better options available to help you build up your credit or help you in a financial emergency.

Next, there are Bad Credit Loan scams. With these, you will never receive the funds you request and you will likely lose money in the process. With most of these scams, the "lender" will ask you to send a nominal fee (e.g. $40), and in return, they promise to send you the amount you'd like to borrow. When it's a scam, you will send in the fee, but you'll never get the funds."Should I Consolidate My Loans?" Calculator.
Tips to Avoid Bad Credit Loan Scams
You should be skeptical if the lenders you are considering borrowing from:
Offer guaranteed funds without approval
Aren't registered in your state
Ask for fees up front
With the fees, they request payment using services and payment types like Venmo, cryptocurrency, or Green Dot MoneyPak (for example)
Use vague advertising tactics
Have an unsecured website
Do not have a physical address
What to Do if You Have Been Scammed
If you believe you've been the victim of a Bad Credit Loan scam, contact local police right away. Your state Attorney General should be notified as well. If the lender said they were located in another country, you should also contact the Federal Trade Commission and the FBI.

Additionally, many people rely on the BBB (Better Business Bureau) to know what companies they should trust. Consider filing a complaint with the BBB as well to help others avoid a scam.
Alternatives to Bad Credit Loans
If you are skeptical about taking out a Bad Credit Loan but need to borrow money, here are two alternative loan options to consider:

Personal Loans: Personal Loans involve borrowing funds from your financial institution. Personal loans generally have lower interest rates than other types of loans and credit cards. They are often used to consolidate and pay down debt, cover medical bills or an unexpected large expense, pay for home improvements or finance large purchases like a boat or dream vacation. As you can tell, Personal Loans have a wide range of uses. A Personal Loan from your credit union could put you back on the path to a good rating with less risk. If you have filed for bankruptcy or feel your credit score won't qualify for a Personal Loan, please ask us for help. We are happy to help you find the solution that is best for your needs!

Home Equity Loan: If you currently own your home, you may want to apply for a Home Equity Loan. These loans use your home as collateral. The amount that you can take out for this type of loan depends on your home's value, which means you may need to have an appraiser appraise your property and give it a total value before you can borrow. In some instances, your credit union may recommend applying for a Home Equity Line of Credit (HELOC) so you have flexibility in withdrawing the funds versus receiving them in one lump sum.
How to Determine Which Loan Is Right for You and How to Apply
Because there are a wide range of loans available and several factors that need to be considered when borrowing money, the best way to know what loan is right for you is to contact Allegiance Credit Union.

We will review your credit history, finances, outstanding debt, and other assets, and help you find a Personal Loan or Home Equity Loan solution that will work best for your finances while helping you avoid Bad Credit Loans. Contact Allegiance Credit Union to get started today!
For more information on Bad Credit Loans and how Personal Loans may be a better solution, review our "Personal Loans Revealed: Bust The Myths and Get The Money You Need" Guide.