27 April 2021 / 6 minute read
What Is A Home Renovation Loan?
If you are on a budget, understanding how a renovation loan works helps you make informed decisions about purchasing a home or financing home improvements.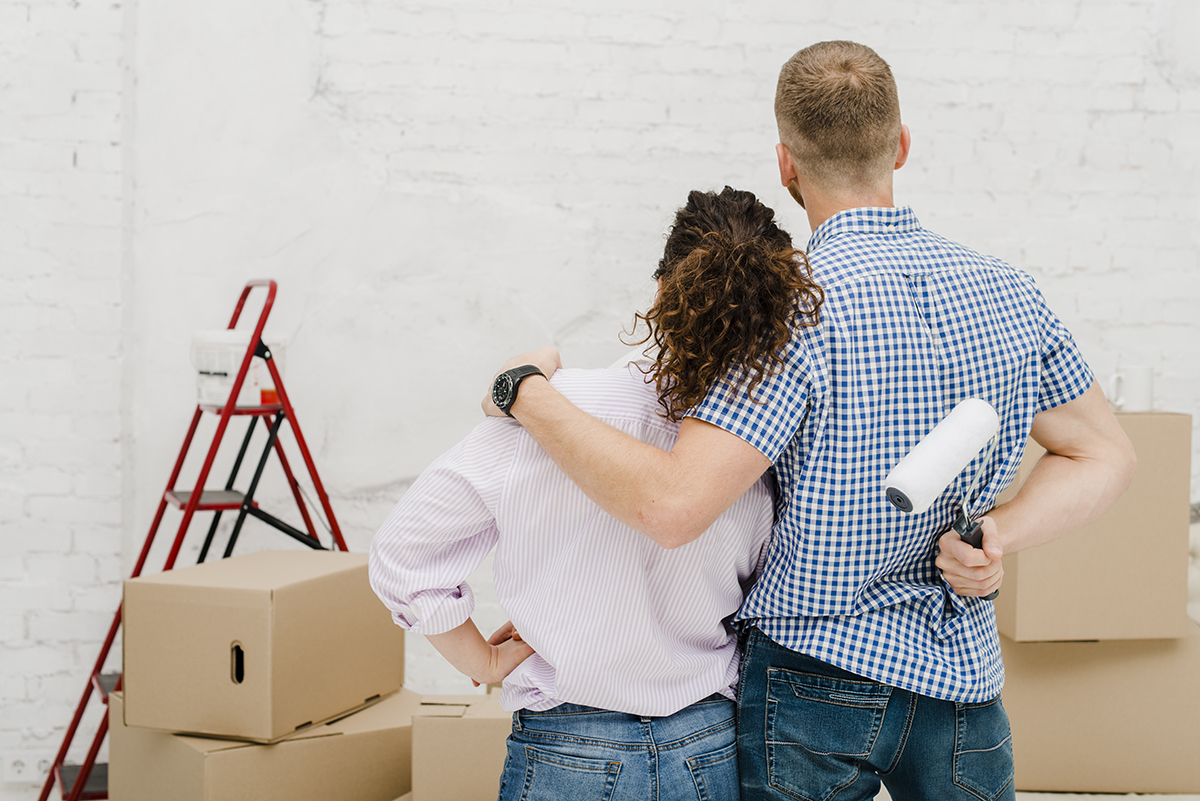 Families sometimes struggle to find the perfect home with enough space and amenities in the perfect neighborhood. The financial constraints of growing families can limit your real estate options to undersized homes in less-than-ideal locations.
That's why everyday people are turning to a home renovation loan that allows them to consider larger, lower-priced homes in need of repair. A renovation loan could prove invaluable in terms of purchasing a home in a favorable area at a fraction of the cost. If you rank among the many people on a budget, understanding how a renovation loan works can help you make informed decisions on which home to buy and how to finance home improvements.
What Is A Home Renovation Loan?
The driving reason people secure a home renovation loan is to improve their quality of life in their prospective new home through home renovations, improvements, and upgrades as well as to increase the overall property value. People buying residential properties, that may not be an entirely suitable living environment, often consider a home renovation loan to make structural or cosmetic enhancements before occupying the space. Lenders may allow you to borrow toward the improvements and effectively start construction promptly after the closing.
Renovation loans are typically calculated based on the estimated value of a home after the proposed improvements are completed. This aspect makes them preferred resources because the future property value will increase once the renovations are complete, even though the fair market value remains relatively lower.
Homeowners would also be well served to understand the differences between a renovation loan and products that sound similar, such as home improvement loans. Although the terms tend to be used interchangeably, the loan terms, features and requirements are very different. It isn't uncommon for everyday people to mistake one for another and end up with more restrictions or a higher rate than they were bargaining for.
One way to distinguish a home renovation loan from other home improvement loan options is the future property value aspect. Few, if any, other loan products factor the post-renovation value estimate into your borrowing bandwidth. These rank among the popular available home renovation loan options.
Fannie Mae HomeStyle: This single-close loan option factors in the cost of repairs into the total borrowed amount. If an appraiser indicates that structural or cosmetic repairs are necessary, this Fannie Mae loan option can be used for those purposes. Terms usually run either 15 or 30 years and may include adjustable rates.
FHA 203(k): Similar to the Fannie Mae HomeStyle renovation loan, this product generally supports applicants with lower-than-average credit scores. This loan can only be used for a primary residence in need of significant repairs.
EZ Conventional: This renovation loan option can be utilized with a conventional mortgage to improve the home's non-structural aspects that increase value.
Jumbo Renovation: A jumbo renovation loan typically comes into play when people purchase high-end homes. The loan option generally includes items an appraiser might require as well as those the property owner desires. In either case, the repairs remain almost exclusively non-structural and must add value.
USDA Rural Development Home Repair Loans: The USDA helps prospective homeowners secure safe, reasonable housing, and its Home Repair resources enjoy the flexibility to that end. The funds may be used for structural purposes or to purchase and install new appliances, among others. The government-backed program tends to be income-driven.
Home renovation loans rank among the go-to funding resources for everyday people purchasing properties that require improvements and repairs. But like any product, a renovation loan has pros and cons to consider.
Renovation Loan Pros and Cons
Renovation loans rank among the most popular options because homeowners can re-imagine a home to their liking immediately. Borrowers will not require a second mortgage or line of credit payment on top of the monthly payment. And given most homebuyers anticipate making improvements anyway, a renovation loan effectively kills two birds with one stone. If you are interested in a property that requires work, these are pros to consider.
Provides an opportunity to borrow above the purchase price and make necessary renovations.
Provides an opportunity to consider older homes at lower asking prices that need work buyers might not otherwise consider.
Homeowners typically incur a lower long-term cost than taking out a mortgage and a home improvement loan later.
A renovation loan allows homeowners a lucrative tax deduction because the product counts as a mortgage.
Home renovation loans may not require you to have as high a down payment given the estimated property value after the work is completed.
It's essential to conduct substantial due diligence and double-check your calculations. One of the common missteps homebuyers sometimes make is over-estimating the value after renovations have been completed. These rank among the potential cons to consider.
Not all banks or lending institutions offer renovation loan products.
Borrowers are tasked with increased due diligence and loan application requirements to support the total loan amount.
Detailed renovation plans are typically required.
Applicants generally must select and work with a contractor before applying.
Renovation loan approvals can take longer than some other products.
Contractor delays can impact timelines and move-in dates.
Know This Before You Get a Renovation Loan
Working families should always walk into a borrowing situation with their eyes wide open. Issues that do not get the necessary attention and thought they deserve can emerge as problems later. It may be worthwhile to ask yourself the following questions to ensure you are prepared to purchase a fixer-upper.
What is Your Timeline?
Houses in need of upgrades often wallow on the market for a reason. Home renovation loans require extra time and effort. Moving in is also predicated on contractors completing work. Consider your timeline and what you will do if construction falls behind schedule.
What's the Difference Between FHA, Conventional, and VA Loans?
Applicants who served in the military may be eligible for VA loans. VA loans have few requirements and offer competitive rates and low upfront costs. Non-service people can access government-backed FHA loans. Conventional loans are open to qualified borrowers, typically require higher credit scores, and offer lower interest rates.
How Large Is Your Budget?
When purchasing a fixer-upper, buyers may want to make sure they have enough cash tucked away for living expenses, up-front fees, a down payment, and costs associated with due diligence. It may be prudent to budget an additional 10 percent to be safe.
Have You Enlisted A Licensed & Insured Contractors?
Although you may have a friend or family member qualified to make the necessary upgrades, lenders work almost exclusively with licensed and insured contractors. Applying with paperwork from a non-certified outfit will likely cause a rejection.
Alternative Funding Options
A home renovation loan remains a product of choice for everyday people who want to buy a fixer-upper and rapidly increase property values. But not everyone may feel that this product is the perfect fit for how you imagined homeownership. These products(new blog) offer financing alternatives and may fit your needs, depending on your financial situation and goals.
Home Improvement Loan:
Home improvement loans are a great financing alternative if you are looking to pay for an upcoming home improvement project. They are unsecured personal loans typically offering a fixed rate and a fixed term for repayment. They do not use your home as collateral which may mean they feature a higher interest rate, but you also have peace of mind knowing your home is not on the line. They also offer a much shorter loan approval process. Some local credit unions or community banks may approve your loan in as little as 24 hours. Be on the lookout for lenders that do not charge closing costs. These lenders do exist, and that means extra money in your pocket.
Want to see how affordable a home improvement loan may be? Check out a free online home improvement loan calculator to see how your loan would impact your monthly budget.
HELOC:
A home equity line of credit, or heloc, operates as a revolving line of credit like credit cards where you only make payments on the amount you have borrowed. It offers a variable interest rate based on the Federal Reserve's prime rate and is borrowed against the equity in the home. It acts like a second mortgage. Review "5 pros and cons of using a HELOC for Home Improvements" to see if a HELOC may work for your situation.
Home Equity Loan:
A home equity loan is like a HELOC in that it's borrowed against the equity in your home, but it differs by offering a fixed payment rate and term. Interested in learning more about home equity loans? Check out how a home equity loan works in our how long does it take to get a home equity loan(new blog) blog.
Cash-Out Refinance:
This product replaces an existing mortgage and allows homeowners to borrow more than they currently owe on the property.
FHA Title 1-Loan:
This option allows low-income homeowners to borrow money to make necessary improvements. In many cases, people who cannot qualify for conventional loans can secure an FHA Title 1-Loan.
How to Decide If A Home Renovation Loan Is Right For You?
Homeowners enjoy wide-reaching loan options, and renovation loans can be perfect when purchasing a property that requires work. By adding up the purchase price and renovation costs, you can arrive at a figure that clarifies your borrowing needs. That figure must also be weighed against the estimated value upon completion. If the math works, a home renovation loan can be the perfect product to restore the fixer-upper you have in mind.
If the math does not work, keep in mind home improvement loans, home equity loans, and the other alternative loan options mentioned above. Speak with a loan expert at your local credit union or community bank to discover what the right solution may be for you and your financial situation to help turn your fixer-upper into your dream home.
For more information to help you decide if a home renovation loan is right for your project and tips for which projects will increase your home's value, review our "Home Improvements Made Easy: Your Complete Guide to Using Home Improvement Loans the Right Way".