9 May 2023 / 4 minute read
Planning to Receive or Send money? Use These Tips to Avoid Getting Scammed
Before you plan on receiving or sending money online, make sure to check out these important tips so your online transactions are all safe and scam free.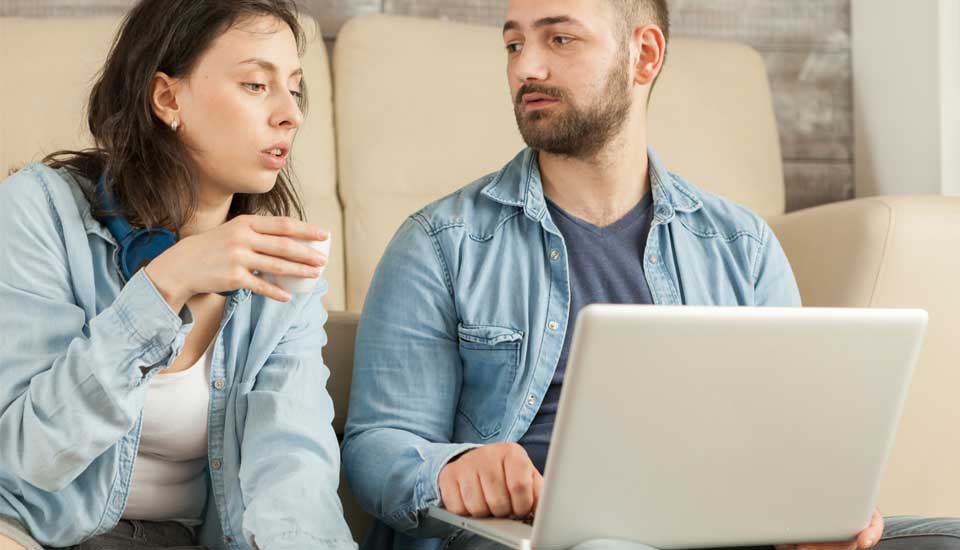 We have all been there, you went out to eat with a group of friends and one person pays the bill and the rest send their share over via an app. Super convenient. No one needs to worry about carrying cash or splitting checks anymore. You can support small businesses and purchase unique items all over the world without worrying about how to pay. Receiving and sending money to someone today is as simple as the click of a button. In fact, there are a variety of different mobile payment apps that you may have used that allow us to quickly exchange money with friends, family, and businesses. Unfortunately, though, online scams are a real thing and if you are not careful; you could end up being a victim when you send money via one of these online applications.
Types of Scams You Could Get Caught In When Receiving or Sending Money
1. Fake Messages Sent From Scammers
Fake login pages and other phishing emails and texts are popular tools used by scammers to get your money. The message will often claim that you have received a payment. Unfortunately, once you click on the message, you are instead directed to a website that steals your login information so scammers now have access to steal the money in your linked accounts. The text and emails use wording and even email addresses that make them look legitimate. The scammers can copy legitimate company logos and overall formatting to capture a victim's information.
2. "Accidentally" Receiving Money from a Stranger
Scammers will actually go as far as to send you money then contact you to say it was a mistake and ask for a refund. The scam occurs when they ask you to issue a refund to a different account. The key to the scam is that the "accidental" money was sent to you via a stolen credit card. When the credit card owner discovers the issue and files a complaint with the credit card company, the deposit amount is then taken out of your account and your money is used to pay back the stolen amount from the original victim.
3. Fraud Alerts from Your Credit Union or Bank that are Fake
Often pretending to be representatives from your credit union or bank, these scammers send fake fraud alerts indicating that your account has been compromised. They direct you to transfer your money to an account they say is secure and that you should use your mobile payment app to do so. Your money is then sent directly to the scammers. It is easy to get caught in this scam when the text or email uses wording like "suspicious log-in attempt" to make the victim feel a sense of panic.

Tips to Avoid Getting Scammed When You Want to Send Money
Treat App Payments Like Cash
It is important to understand that if you lose money via a mobile payment app, it is equivalent to losing cash because it typically cannot be canceled, and chances are high that you will not have the money refunded to you.
Make Sure You Are Sending Money to the Right Person
As simple as it sounds, in a rush sending money to the wrong person is not uncommon. When sending money via a cash app, be sure to confirm the account name before you hit send. Many accounts have names that are very similar, which can cause an issue if you are not careful. Once the money is sent, it cannot be easily canceled. While sending money it is also good to let the intended recipient know that you are about to transfer funds so they can keep an eye out and confirm when they safely receive the funds.
Make Sure You Double-Check the Amount to be Sent

What could be worse than sending $1500 when you wanted to send $15.00? Triple-checking the amount you are sending before you hit send it always a good practice. This might not be a big deal if you are sending money to a friend or family member but if you are paying for a service or buying goods from a business, recovering your excess amount may not be easy. It is always a good idea to confirm the amount when you send money, as you will not be able to change it after payment is sent.
Know Your App Policies
There are a variety of different apps to use when you want to send money. While the wording is boring and doesn't make for a fun read, it is worth the time and effort for you to read over the protection and disclaimers before you commit to using a specific app. Check the fraud protection measures they have in place to make sure you are covered in the event of fraud. Also, be aware of the transaction fees associated with using the app so you know exactly where your money is going. Apps like Zelle are often considered the safest since they are directly linked to your account and your credit union has done due diligence to ensure the safety of its members.
Use the In-App Security Features
Using the latest version of your mobile payment app is key to ensuring you are protected by up-to-date security features. In addition, be sure to enable all available security features to provide the highest level of security for your money and accounts. We know, it can get super annoying when an app wants to send you a verification code to your email or text but be assured these extra steps are meant to help keep you and your money safe.



What to Do In Case You Are a Victim of a Scam
1. Try to Cancel the Payment
When it comes to online scams, time is money, literally. We are naturally inclined to get upset, panic and even go on a ranting session. While these feelings are valid and justified, make sure to first get the ball rolling on a potential solution. Quickly attempt to cancel the payment by locating the fraudulent payment transaction and clicking "cancel". Typically, if this option is available, your money can still be refunded.


2. Inform your Credit Union or Bank of the Fraudulent Activity
Contact the fraud department of your credit union or bank to let them know what happened. If your mobile payment app is linked to a debit or credit card, dispute the transaction with your bank or credit union. If you have been a victim of phishing make sure to let your credit union or bank knows that your account information has been compromised. They may need to close your current accounts and freeze your funds until they can reissue you a new card and new account.
3. Report the Transaction as a Scam
Report the scam via your mobile payment app using the correct link and follow the instructions about what you can do to ensure they are aware of the payment issue. It is also a good idea to get on the phone and contact the app's customer service department so they can also document your incident.



4. File a Police Report
Some apps require that you file a police report when you are the victim of a scam to help resolve fraudulent transactions. Your local law enforcement's non-emergency number can connect you to the fraud department for assistance.


Since third-party mobile payment apps are not NCUA or FDIC-insured like your credit union and other bank accounts, it is crucial to be aware of these popular scams. A savvy consumer knows how to protect their money and just how sneaky these scammers can be.