18 January 2023 / 2 minute read
10 Life Hacks to Make 2023 Your Best Year Yet
Use these 10 life hacks in your day-to-day tasks from organizing to relaxing. We promise these will help make 2023 your best year ever!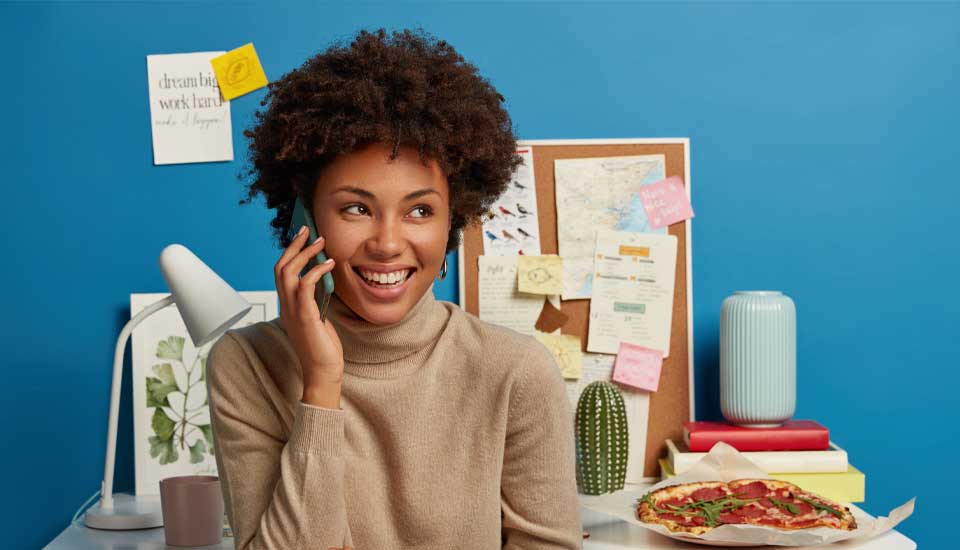 If you're like most people, you want to improve your lifestyle whenever possible and can appreciate helpful life hacks that can make things a little bit better or easier on a daily basis. Although these tips may seem like small things to consider, they can make a big difference on a day-to-day basis to make you more productive, happy, and efficient.

Add some of these helpful life hacks to your list of resolutions and goals to have the best year ever in 2023.
10 Life Hacks for the New Year
1. Fly Smart
When searching online for the best deals on flights to your favorite destination, be sure to use your browser's incognito mode. This helps you avoid the cookies that websites use which actually increase the cost of your flight once you visit a site several times. Using a credit card that offers rewards that you can use towards travel is another great hack for flying smarter.
2. Get Cell Service Anywhere
Looking for cell service but can't seem to get a good signal? Simply switch your cell phone to airplane mode which prompts your phone to search for all the cell towers near you, giving you plenty of options to get and stay connected.
3. Supermarket Savvy
Save time and money when grocery shopping with this helpful life hack. Cheaper items will usually be on the top or bottom shelves, away from the prime advertising spot at eye level that is reserved for higher-priced brands. Remember to scan up and down first before you grab an item to ensure you're getting the best deal.
4. Fog No More
Bathroom mirror too foggy to see yourself? No worries! Just grab your blow dryer to instantly defog the mirror, so you can finish your morning or evening routine.

5. Have a Pre-Bed Shower
If you find it hard to relax and sleep at night, this life hack will have you snoring in no time. Ease your way into sleep with a warm shower just before bedtime for a great night's sleep. The warm water dilates blood vessels, relaxes muscles, and removes toxins from the skin, so you'll easily have sweet dreams.
6. Write Down the Good Stuff
When you want to stay focused and motivated, spend some time at the end of each day writing down three good things that happened to you during the day and how the events made you feel. Ending the day on a positive note is good for the heart and soul.
7. Eat Lunch Outside
Take every opportunity you get to eat outside to reap the benefits of nature therapy. Enjoy reduced stress, a boost in performance, and even an increase in job satisfaction by dining at a local park, restaurant, or a fun picnic on your patio.
8. Enhance Your Sleep Regimen
Any life hack that involves getting better sleep is definitely worth trying! Set a specific time each evening to get in sleep mode. Dim the lights, turn down the volume on electronic devices and set a comfortable room temperature to entice sleep every night.

9. Exercise the 60/10 Rule
When working or completing a daunting task, this life hack can help you be more productive. Set a timer for one hour and work diligently on the task at hand. When the timer sounds, allow yourself a 10-minute break for an energizing activity. Consider going for a walk, calling a friend, making a cup of coffee, or anything that takes your mind off of work for a few minutes.
10. Improve Focus With Music or White Noise
Looking to stay focused? Try low-level background noise such as relaxing music or nature sounds that can hide distractions that may disrupt your work. This will increase your creativity and help you focus better.
Are You Ready for Your Best Year Yet? These Simple Life Hacks Can Make a Big Difference
The new year is a great time to make a resolution to try different things. Use some or all of these creative hacks in the new year to help you live your best life in 2023. From relaxing more and getting better sleep at night to saving money at the grocery store and even on your next flight; make 2023 your best year yet with a few unique and easy life hacks that will improve your everyday life. Get started today! Happy New Year!