10 July 2023 / 4 minute read
Credit Union vs Bank Mortgage: 3 Ways Your Choice Impacts Oklahoma
Deciding between a credit union vs bank for your mortgage isn't easy. Explore their mortgage options, overall experience, and community impact differences.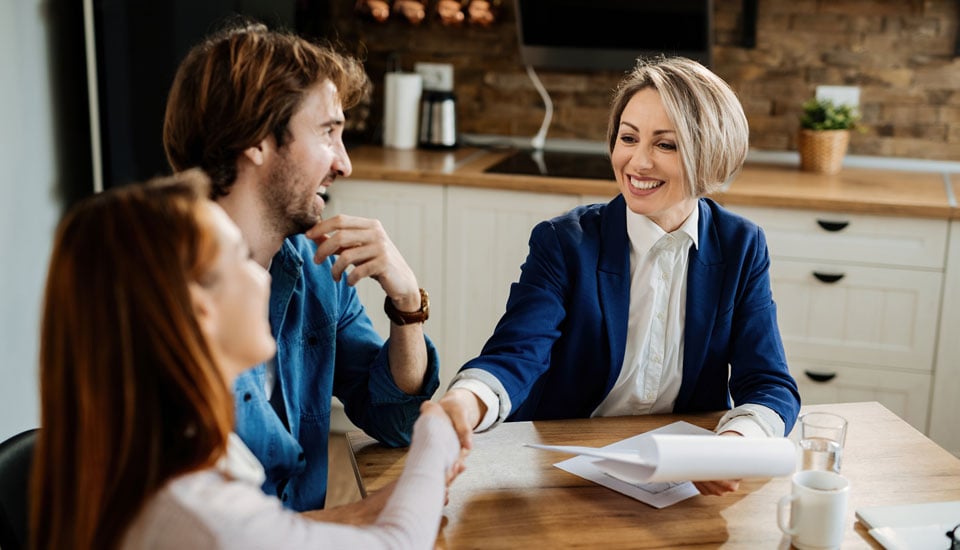 After nurturing that credit score and saving up a down payment, it's time to realize the American Dream of owning your own home in Oklahoma. While house hunting is a close next step, a critical question needs to be answered when it comes to your mortgage pre-approval, "Which is better, a credit union vs bank mortgage?"
Some prospective homeowners are easily persuaded by flashy marketing campaigns rolled out by commercial lenders. It's implied they have an endless budget, so they must offer the best rates. Nothing could be further from the truth. Not only do Oklahoma's credit unions offer competitive mortgage rates and favorable mortgage terms, but they also approach working with people in the community differently. If you are ready to consider credit union vs bank mortgage opportunities, there are more options to weigh than you may have realized.
Credit Union vs Bank Mortgage Options
The types of home loan products banks and credit unions offer are quite similar. Mortgage shoppers may occasionally come across a new or hybrid home loan option. But, for the most part, each provides the following popular mortgage options.
When applying for one of these or another home loan option in Oklahoma, there are significant credit union vs bank mortgage differences to consider. Credit unions usually offer lower interest rates with fewer fees, and loan originators have broader approval discretion. Banks have pre-set approval guidelines and rates strictly linked to creditworthiness for any customer who applies.
Credit Union vs Bank Mortgage Experience
It's important to meet face-to-face with a lending professional to discuss how much you can borrow before making an offer on a home. The process may be relatively brief at a bank. That's largely because the loan professional has little to no flexibility. They review credit scores, income, and debt, and offer the applicable mortgage.

Credit union loan and mortgage experts enjoy offering a wider range of acceptable credit guidelines and focus on serving the underserved. As not-for-profit organizations, there are fewer sales goals to reach so members can understand they will not be put in a product or mortgage that isn't right for their finances.

While a credit union loan originator also looks at creditworthiness metrics, they can consider other factors. The experience, as well as the outcome, is about treating applicants like real people. Loan experts at credit unions are available to answer questions before, during the application and after the loan closes. This is a pleasant alternative when compared to waiting on hold after calling an 800 number not knowing who will be assisting you. Using each member's definition of financial success as a guide vs profits, members can count on getting the right solution for their needs when they work with a trusted credit union.
---

Reveal the ten biggest differences between credit unions and banks by downloading our guide:
---
Trying to Decide Between a Credit Union vs Bank Mortgage? Consider How Oklahoma Will be Impacted
The way we handle our finances and do business in Oklahoma affects our community in significant ways. Big corporate banks charge high-interest rates and fees and send that money to out-of-state investors, in many cases. Credit unions are focused on expanding financial and socially conscious opportunities within the community. These are ways working with a local credit union positively impacts our towns, cities, and institutions.
1: Credit Unions Give Back to the Community
When you get a mortgage at Allegiance Credit Union, a portion of your purchase gets reinvested into our local community. Instead of paying stockholders portions of our profits, we share our earnings with our members in the form of lower rates and fees, and we contribute to our community through our charitable giving campaigns which focus on education, housing, and health & wellness initiatives in Oklahoma.

The ACU Cares Foundation supports non-profit organizations that make a difference in the lives of Oklahomans. Here are just a few of the organizations supported by the ACU Cares Foundation over the past few years: Restore OKC, Sisu Youth Services, Boys & Girls Clubs of Oklahoma County, Regional Food Bank, Sunbeam Family Services, City Center, and the Winds House.
2: Credit Unions Implement Lower Rates & Fees
Keeping the not-for-profit business model in mind, the modest interest rates and fees associated with credit union mortgages benefit our community through donations, innovative products, cutting-edge technology, and well-staffed lobbies meaning shorter lines and better service. As our lending resources grow, more members of the neighboring Oklahoma counties can also gain access to wide-reaching loan products, low-rate credit cards, and affordable checking accounts.

Taking out a credit union mortgage is equivalent to investing in your community. When you bank at Allegiance Credit Union, you are part of something bigger. Your decision will help your neighbors, friends, and family have access to affordable lending solutions.
3: Credit Unions Employ Locals
The Sooner State is one of the most affordable places to live. Its thriving food scene, minimal traffic, and historical charm offer a robust quality of life. Taking out a mortgage from a commercial bank may send your hard-earned Oklahoman dollars to big cities in other states. A local credit union mortgage with Allegiance Credit Union helps support jobs right here at home.
Things to Do Before Applying for a Mortgage in Oklahoma
Putting your best financial foot forward when applying for a mortgage in Oklahoma is essential. Consider getting a free copy of your credit history from the three major reporting bureaus (Equifax, Experian, and TransUnion) at annualcreditreport.com. Take the time to review the information and ask them to fix any errors. Then use the information to strategically clear up blemishes to raise your FICO score.

It's also important to pay down credit card balances and demonstrate the best possible debt-to-income ratio. These efforts help improve your creditworthiness profile and allow the credit union loan professional to provide you with the lowest possible rate and favorable terms. When you are ready to get a mortgage pre-approval, keep in mind that your decision will make a larger impact than just on your wallet.
Allegiance Credit Union Can Help with Your Mortgage Needs
At Allegiance Credit Union, we pride ourselves on being a credit union for all. That's why we are happy to offer mortgages to qualified members who live, work, worship, or attend school in Oklahoma's Canadian, Cleveland, Grady, Lincoln, Logan, McClain, Oklahoma, and Pottawatomie counties.
If you are planning to purchase a home and are ready to get the perfect mortgage for your unique needs, apply online today with Allegiance Credit Union. We are ready to help you finance your dream home.
Still deciding between a credit union vs bank mortgage? To take a closer look at the pros and cons of both, review our "Credit Union vs Bank: Which One is the Best for You?" Guide.