12 July 2023 / 5 minute read
Credit Union vs Bank Auto Loan: 8 Critical Factors to Consider
Deciding between a credit union vs bank auto loan? Explore the factors you MUST compare to get the best deal on your car, truck, or next vehicle.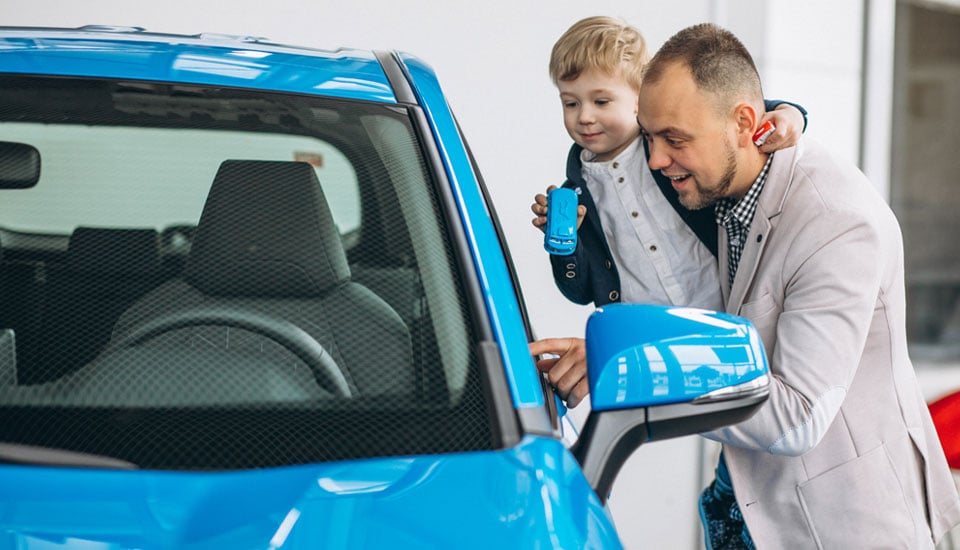 When it is time to buy a new car, most of us require an auto loan to help finance the new vehicle. Whether you want to purchase a brand-new truck or a high-quality used car, getting the best deal on financing with low interest rates and a suitable term length is crucial to achieving an affordable monthly payment.
Where should you look for auto loan financing to get the best deal? Fortunately, consumers today have an abundance of options to select from. Researching lenders and rates before heading to the dealership is an important first step. Be sure to find out how your lender selection will not only impact your wallet, but also your local community. Deciding if a credit union vs bank is right for your auto loan will make a big difference to your overall experience and final cost.
When Considering a Credit Union vs Bank for Your Auto Loan, Compare These Factors
Buying a new car or truck is exciting, but smart shoppers know that finding the right financing is an important part of the car buying process. To save time, money, hassle, and stress, be sure you compare these important factors before selecting your auto loan lender.
8 Things to Consider When Choosing a Credit Union vs Bank Auto Loan
1.Auto Loan Rates and Fees
Before heading to the dealership or car lot, you should secure an auto loan pre-approval. To get the best deal on interest rates, it is best to compare a credit union vs bank auto loan. Your local credit union typically offers lower interest rates than you can find at banks. The main reason credit unions have better auto loan rates is because credit unions are not-for-profit financial institutions. They are owned by the people who use their financial products. The profits made at a credit union are returned to their members in the form of lower interest rate auto loans versus paying stockholders like banks. According to the National Credit Union Administration, interest rates on credit union auto loans are typically lower than bank auto loans. In addition, banks commonly charge additional origination fees or application fees for most loans, while credit unions typically offer reduced fees to members. Comparing the interest rate and loan fees can lead to additional savings.
2. Money Saving Repo Car Options
When comparing a bank vs credit union auto loan, be sure to look for unique ways to save money and get the best deals. One great option for those in the market looking for an affordable vehicle is to consider the savings opportunities on repossessed vehicles.

Allegiance Credit Union is part-owner of the First Rate Autos dealership owned by OKC credit unions. Our dealership includes an inventory of vehicles that consists of repossessed autos as well as those that were acquired via auctions and private owners. If your credit score is 600 and above, First Rate Autos can provide financing at a maximum interest rate of 5.99% APR* (with approved credit). If you qualify for a lower rate, you receive a lower rate. This special option also allows Allegiance Credit Union members to sell their current vehicle should they decide to do so. This shopping option can help you save money on your auto purchase and is yet another reason you should consider a credit union vs bank auto loan.
*APR = Annual Percentage Rate.
3. Auto Loan Approval Timing
When buying a new car, sometimes time is of the essence. It is truly an inconvenience to be without reliable transportation for extended periods of time. While a typical bank auto loan can take anywhere from one business day to a week, credit unions take pride in their local decision making and loan approval speeds. Credit unions offer onsite auto loan approval and have more flexible loan approval guidelines and credit requirements.
4. Auto Loan Protection Options
When discovering if a credit union or bank is right for your auto loan, it is a smart choice to research and compare the available options for auto loan protection. Programs like payment protection, GAP, mechanical breakdown, and even discounted auto insurance can go a long way in helping you protect your investment. Due to credit unions being collaborative and partnering with other organizations to save their members money, you can typically count on them for a variety of auto loan protection options that can really help relieve the financial burden that is often associated with owning a vehicle.


---

Discover how your credit union vs bank decision impacts Oklahoma by downloading our guide:
---
5. Credit Unions vs Bank: Whose Advice Is In Your Best Interest?
When asking yourself which lender has your best interest in mind, the obvious choice is your local credit union. Since credit unions reinvest their profits by offering their membership lower loan fees and interest rates versus banks that must pay their stockholders, credit unions are not driven to reach excessive sales goals and quotas. Their advice is truly in the members' best interest and is meant to help them achieve financial success.
6. Financial Resources to Educate and Empower
Knowledge is definitely power, so it is important to research and find resources to help you make the right financial decisions. The more you know about your financial options, the more likely you will develop smart money management skills that will lead to a successful financial future. Allegiance Credit Union offers members an abundance of money management resources and budgeting tools to keep your finances on track. Financial resources from Allegiance Credit Union includes:
7. Credit Unions vs Bank: How will Your Decision Impact Your Community?
Choosing a credit union vs bank auto loan not only saves you money, but it can also help your local community. Take the time to research how getting a loan at your local financial institution makes a difference in your neighborhood and find out which organizations are supported through community sponsorships and donations.
Allegiance Credit Union plays an active role in supporting the Oklahoma City community. Created to make a difference in the local community, our ACU Cares Foundation focuses on supporting education, housing, and health & wellness initiatives. The support given to local organizations via charitable giving campaigns celebrates diversity, promotes equality, and demonstrates a culture of inclusivity with staff and members.

Being an active member of your local credit union helps employ your family, friends and neighbors. A strong community credit union will be available to lend you the money you need as you grow through the different stages of your life.
8. How You're Treated Matters
Personalized service never goes out of style. At Allegiance Credit Union, you are more than just a number. We know that how you are treated truly matters, and we take that very seriously. As a credit union, we invest our profits back into our buildings, technology and staff to ensure you have a pleasant experience with less time waiting. We are available to help you before, during and after your auto loan application is complete whether you decide to complete it online or in person at one of our convenient branch locations.
Not Sure Where Your Auto Loan Belongs? Allegiance is Here to Help
Deciding where your auto loan belongs can be a big decision. Allegiance understands the car buying journey and has your best financial interests at heart. We pride ourselves on being a credit union for all. We promote diversity and inclusion for all people no matter their financial status in life.

If you are ready to get pre-approved for your auto loan, apply online today or visit one of our convenient branch locations. If you have questions about your unique financial situation, we are here to help. Please contact Allegiance Credit Union today.
Still unsure which credit union vs bank auto loan is right for you? To take a closer look at the pros and cons of credit unions and banks, review our "Credit Union vs Bank: Which One is the Best for You?" Guide.