23 July 2023 / 3 minute read
6 DIY Home Improvement Projects for Summer On a Budget
Home improvement projects often take a back seat due to hectic schedules. With summer winding down, now's the time to tackle these affordable projects.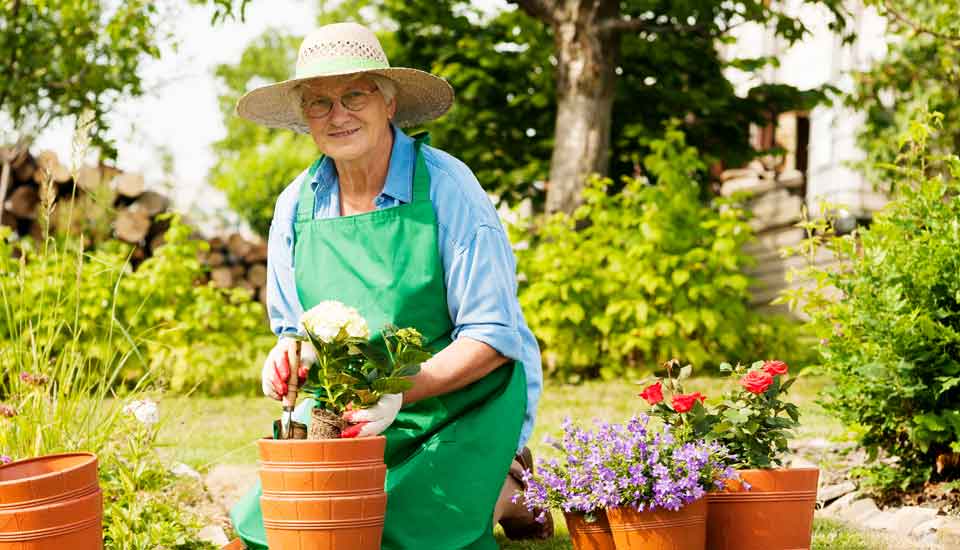 Winter and spring's unpredictable weather coupled with hectic family school schedules often cause home improvement projects to take a back seat. Now that summer is here, it's the perfect time to tackle some affordable home upgrades!
By utilizing straightforward do-it-yourself skills, you can eliminate the cost of hiring a contractor. With only a modest investment this summer, the right home improvements can provide an affordable enhancement to your property.
Advantages and Disadvantages of Summer Home Improvement Projects
Summer is the perfect time to complete your home improvement projects! The more consistent sunshine offers property owners the ability to schedule home improvement project phases with only minimal concern about inclement weather. Not worrying about the threat of rain is important because complex builds and remodels can leave untreated lumber or areas of a home exposed.

By that same token, the summer heat often requires homeowners to take a break during peak afternoon temperatures. It's not unusual to manage DIY home improvement projects early in the morning or late afternoon when high temperatures dictate. If you're thinking about making property enhancements this summer, these rank among the popular DIY home improvements that require minimal investments.

1. Swap Out Your Entry Door
Aging or damaged front doors negatively affect the curbside appeal of any home. The entry tends to be a primary focus of passersby and says a great deal about the level of care people take regarding their homes. The price of a new door runs anywhere from under a few hundred to several thousand dollars if you hire professionals.

Homeowners usually cut the price in half by installing pre-hung entry doors themselves. Timing the project during a stretch of mild warm days means you won't incur unnecessary heating or air conditioning expenses. Swapping out your entry door typically increases the property value as well.



2. Plant a Garden
Planting a new garden ranks among the more cost-effective ways to beautify a property. Creating raised beds with classic brick or convenient landscaping products creates a subtly layered landscape. A modest topsoil delivery, mulch, and attractive perennials such as Shasta daisies, purple coneflowers, and blooming shrubs, make new gardens a savvy investment and a wonderful way to spend leisure time. Consider re-imaging your landscape with well-placed gardens and craft a budget that works for you.

If gardening is already part of your backyard landscape, consider growing fresh fruits, vegetables, or herbs. There's nothing quite like the taste of your own grown produce! With abundant gardening for beginners guides and tips, you'll have no problem finding advice on the right location, size pots and gardening beds, and selection of crops to grow. This garden is a great use of your time, and it may just save you a last-minute trip to the grocery store!

3. Build a Shed
Building a shed over the summer provides increased storage space for tools, bicycles, and children's toys, and yard maintenance equipment. You can make the home improvement project increasingly cost-effective by using materials such as metal roofing, textured plywood siding, reclaimed wood, and by installing a DIY door. There are plenty of ways to save money and keep the project on a budget your family can afford.



4. Pressure Wash Your Home and Patio
Summer may be the best time to pressure wash the exterior of your home and outdoor living spaces. Along with the immediately improved curbside appeal, power washing can increase the life expectancy of siding and roofs. What people often don't realize is that the same pollen that triggers asthma and other breathing ailments settles on the exterior of homes.

Moisture and hot summer sunshine can literally bake pollen into the siding and shingles. The cleansing effect of pressure washing helps reverse the otherwise damaging impact of pollen on your home and family health. Consider contacting a company that rents pressure washing equipment to minimize the cost of this home improvement endeavor.
5. Complete Deck Maintenance
With winter storms and spring rains finally in retreat, the summer sun dries backyard deck surfaces. Properly maintaining these materials typically involves measures such as tightening loose boards, as well as replacing weakened or discolored pieces. Cleaning and staining your deck should also be done on a regular schedule. While washing your deck should be done yearly, staining your deck every two to three years is a recommended practice. You know your deck needs to be stained when mold or mildew has built up or when water soaks into the boards and no longer beads up. A well-kept deck adds a usable and safe living space that also increases property values.




6. Repair or Install Fences or Gates
Good fences not only make for good neighbors, but they also define boundaries in an aesthetically pleasing fashion while increasing property values. Summer remains the optimal season to install fences or a gate because the soil tends to be dry and easy to manage. Depending on the type of fencing and materials, DIY homeowners usually have the hand-held tools needed to build a fence.

Homeowners can save upwards of $20 per linear foot that contractors may charge by purchasing the materials and a post-hole digger themselves. One of the key benefits of installing fences and gates yourself is the ability to afford higher quality products within your budget based on savings.
How to Pay For Your Home Improvement Project
The value associated with the enjoyment of your family home cannot be understated. Putting your time and DIY skills to work offsets the cost of hiring a contractor and lowers the overall cost of home improvements.

If a necessary repair or desired upgrade would strain your monthly budget, a home equity loan (commonly called a second mortgage) or a home equity line of credit (HELOC) could be a welcome solution. These opportunities help qualified homeowners reinvest their equity and gain the upgrades they desire for their homes. Contact Allegiance today to get more information.